Now in their fourth year, the
CBC Toque Sessions
is a series of free shows at the CBC Vancouver building, featuring some great local talent, and recorded for later broadcast on CBC Radio 2 and On Demand.
There have already been a few so far, but the first one I attended this season was
The Matinée
, which is pretty darn good way to kick the series off.
Playing down in Studio 1, it was a seated event which made for a bit more of a relaxed, laid back atmosphere for the band, and they were able to play some lighter songs that they may not have worked as well in a noisy venue. They started the set with one such song, "The Sinking Of The Greenhill Park", but they didn't keep the whole set mellow, breaking out out their anthemic single "Young & Lazy" early on, and they had the crowd clapping and stomping along to songs like "Sweetwater" and the drum breakdown in "The Road", which ended the set.
They previewed almost the entirety of their upcoming album,
We Swore We'd See The Sunrise
, which is out later this month, with songs like "Who Stoned the Roses" and "This Town" being among the highlights; the former showing off the band's harmonies, and latter their encore song which built up to an explosive and intense ending.
As usual, there was a great energy from the band. Lead singer Matt Layzell has fantastic charisma, but also the ability to melt into the background and give focus to the rest of the band, be it Pete Lemon's drumming, Geoff Petrie breaking guitar strings, Mike Young who was simultaneously playing bass and keys at one point, or Matt Rose's guitar shredding.
The show was a great teaser for the album, which has been one of my most anticipated albums for the beginning of the year, and I can't wait to hear it.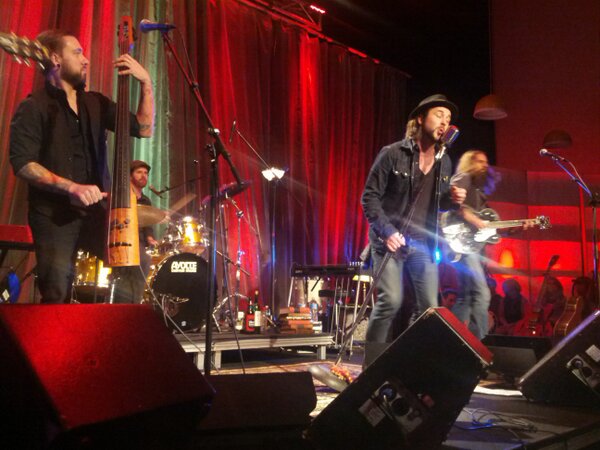 The Toque Session are running throughout the month, and there are some great looking shows: a Light Organ Records showcase, Jill Barber, We Are The City (playing their new album front-to-back), Odds, a beekeeper + Sidney York mashup, and Dear Rouge. They are all "fully booked", but there is always a rush line, so if you show up early enough there is a good show (but no guarantee) you'll get in.
setlist
The Sinking Of The Greenhill Park, Let Her Go, Young & Lazy, L'Absinthe, On Our Own, Losers, Let it Ride [Ryan Adams cover], Sweetwater, Who Stoned The Roses, December Slumber, The Road.
(encore) This Town