For eight years now,
Vancouver Coastal Jazz
has been putting on the
Winterruption festival
on Granville Island, a celebration filled with food and performance and arts and dance and music. This year, one of the featured shows was one of the first Vancouver "indie" bands I got into, Bend Sinister. And joining them was another Peak Performance Project veteran.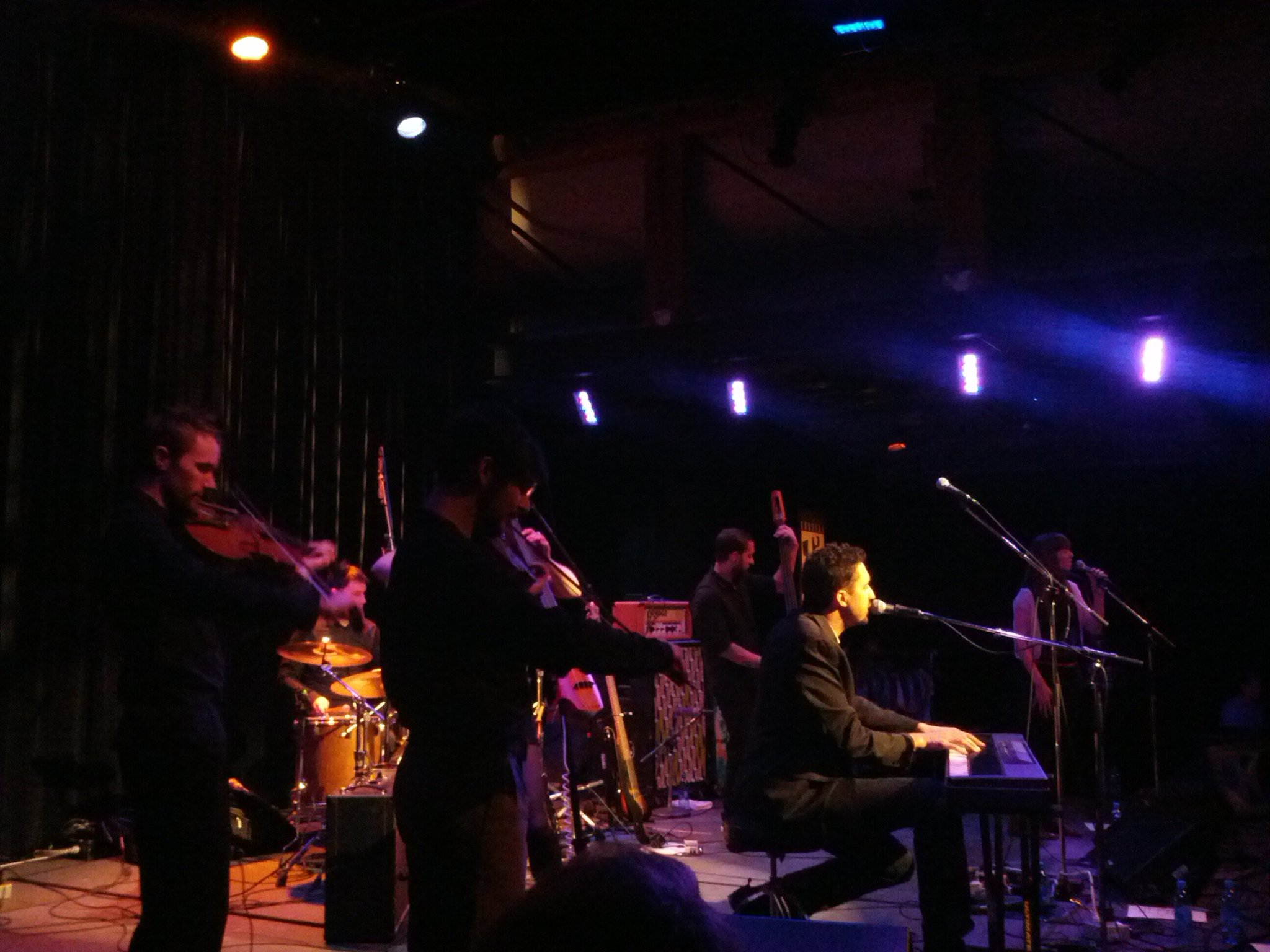 Performance Works was busy early as just as many people were there to see
Dominique Fricot
, who had an all star band of of familiar faces backing him up:
Hilary Grist
on backup vocals (and keys for a couple songs),
Mike Young
on bass,
Niko Friesen
on drums, and members of the
Four on the Floor String Quartet
for a few songs.
With a full band, Dom's singer/songwriter sound was rich and grandiose, especially the few songs that included strings. He played some familiar, like the catchy "Burn And Start Over" as well as a few new songs throughout the set, including one called "Mother's Day", a funky and soulful tune.
At the end of the set we got the rare opening-act-encore as Dom came back for one last song, joined by his string section for the title track to his latest EP
If Baby Could Walk.
Fricot is full of charisma and charm on stage, with a good sense of humour when bantering with the crowd, and his songs are full of emotion. But while he is definitely talented, I still think he just needs a bit more of an edge -- some extra kick -- to really set him apart.
setlist
Seashore, Those Eyes, Burn and Start Over, Mother's Day, East Coast Girls, Time is Limited, Haunted by Love, Strange Lady, Our Last Song, Out of the Scenery.
(encore) If Baby Could Walk.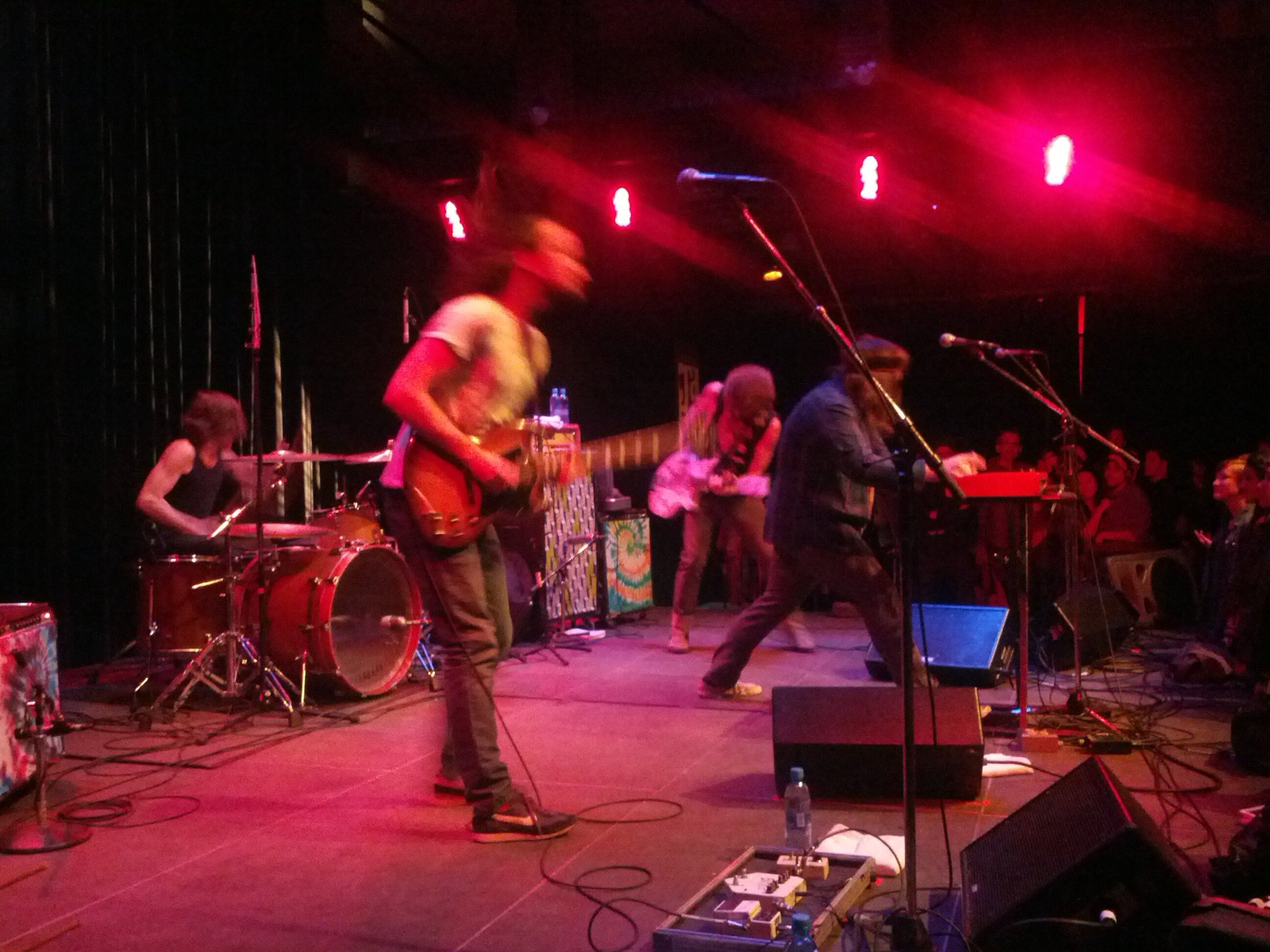 It wasn't long after that when the night was kicked into high gear, with the psychedelic prog-rock-pop of
Bend Sinister
as they exploded with energy right off the bat with "She Don't Give it Up", the first song from the new album
Small Fame
. They hardly let up throughout the set with great intensity from all four members; Dan Moxon is a monster on the keys, and he was flanked by
guitarist Joseph Blood and Matt Rhode on bass, both of which had rock star energy with their power stances, standing on or
straddling
the amps, and engaging the crowd to join in.
Highlights from the set included
Jason Dana
's insane drumming on "CT",
the anthemic and uplifting
"Things Will Get Better", and
the great combo of
"Hot Blooded Man" and "Black Magic Woman", an explosive rocker followed by a more sultry jam, complimenting each other perfectly.
After a cover of Billie Joel's "Movin Out" before ending the main set with the
older favourite "Time Breaks Down".
But of course, they were b
ack out for a few more, including their
regular
cover of Supertramp's "The Logical Song" -- a band who they've drawn comparisons to -- and finishing it off with the huge and epic
"Quest For Love", Moxon's showing off the raw power of his voice for a perfect ending to the set.
As mentioned above, Bend Sinister is one of the first local bands I really got into, and they still remain a favourite. Their songs are
amazingly
catchy and t
here are not many other bands that can match their energy and intensity on stage
.
setlist
She Don't Give it Up, Man of Faith and Virtue, CT, Jimmy Brown, Got You On My Mind, One Shot, Don't You Know, Don't Let Us Bring You Down, Things Will Get Better, Dr. Lee, Hot Blooded Man, Black Magic Woman, Movin Out [Billie Joel cover], Time Breaks Down.
(encore) We Know Better, The Logical Song [Supertramp cover], Quest for Love.