You may know the Austrailian instrumental band Dirty Three from their work with Nick Cave -- they've been his backing band and Warren Ellis, in particular, is also a Bad Seed and a member of Grinderman -- but the trio has returned for their first album in seven years, Toward the Low Sun, and their accompanying tour has brought them back to Vancouver.
The night started off with
Fond of Tigers
, a seven piece instrumental band from Vancouver. With a pair of drummers, violin and trumpet accompanying the usual guitar, bass, and keys, they created a deep, cinematic sound. For the first half of their set, they barely paused between songs, giving it a symphonic feel; that you were listening to movements strung together to create a larger piece. The songs ebbed and flowed, transitioning into the next before launching anew. It was half an hour before guitarist Stephen Lyons introduced themselves, and the next song, with a bit of dry humour, and he stepped up on vocals for the final song of the night, the only non-instrumental.
They had a really great sound, and I am definitely looking forward to seeing more from them in the future.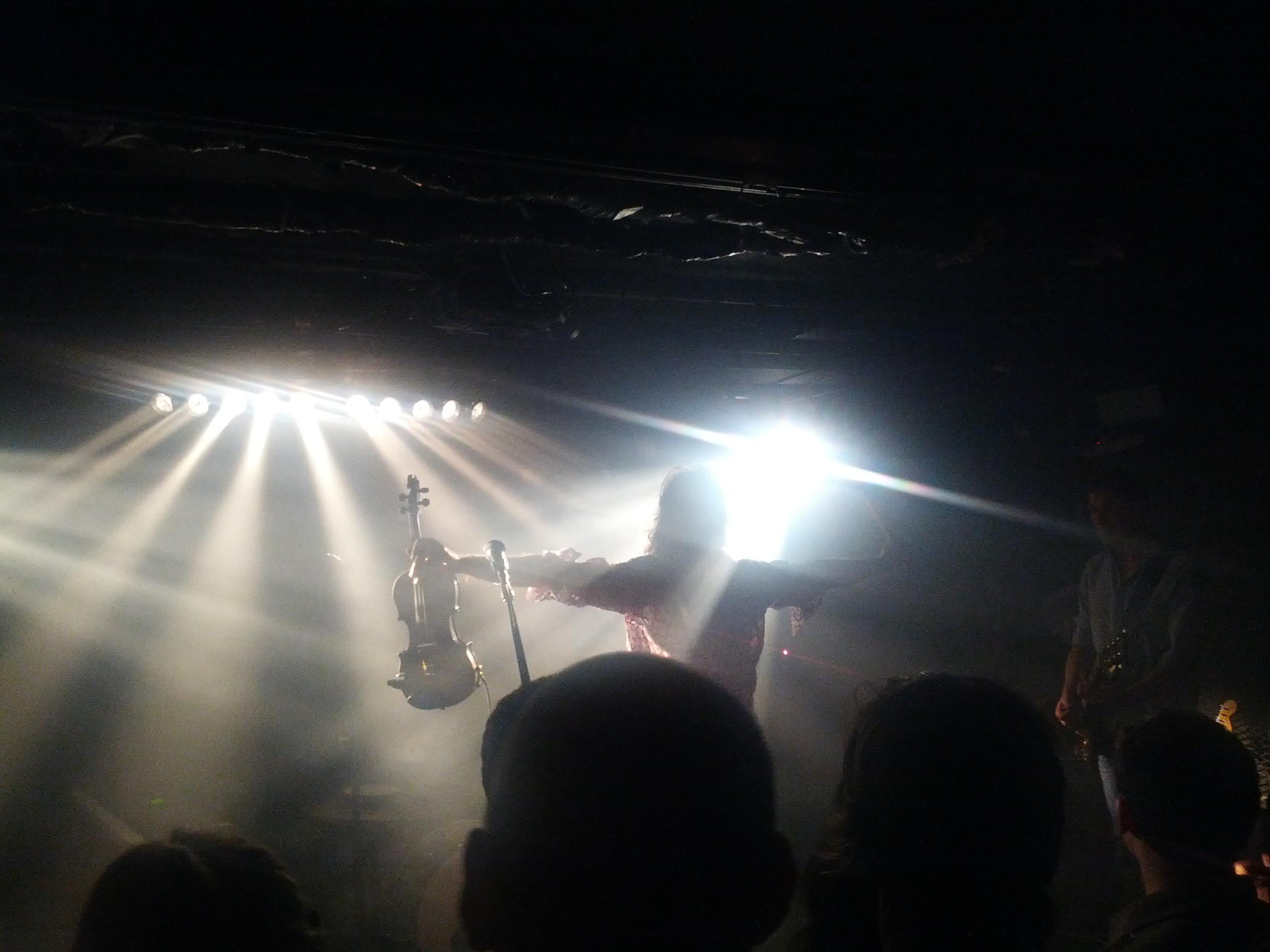 And then it was not long before the curtain was pulled back to reveal
Dirty Three
. Warren Ellis grabbed the mic to thank us for coming, and launched into an explanation of what the first song was about, which ended up being an insane and convoluted, but downright
funny,
story about Bono, Chris Martin, hemorrhoids, and reincarnation. And he did it several more times throughout the night, with each introductory story getting more and more outrageous. I can't do any of them justice, but they involved things like making a Facebook event leading to the end of the world, and Paul Hewson (Bono), Paul Gadd (Gary Glitter), Paul McCartney, and Paul Newman living together in the Valley of the Pauls. It was like Abe Simpson fuelled by whiskey, but less senile and meandering and more raw and hilarious.
But as bizarre as Warren Ellis' storytelling was, it was almost directly contradicted the music itself -- in tone at least -- which was dense and layered, complex and chaotic, dark and challenging. The trio of Ellis on violin (and sometimes keys), Mick Turner on guitars and Jim White on drums created soundscapes much larger and more grand than you'd think possible from just three people. Songs started soft and lulled you in before exploding into a cacophonous ending with Turner's guitars swirling, White's drums pounding, and Ellis' violin shrieking -- and sometimes even shrieks and howls from Ellis himself. Highlights included the beautiful but intense "Ashen Snow" and the haunting "Rising Below".
They played for a solid two hours, right up until the 1am curfew, with Ellis dancing and thrashing around like a madman, high kicking, and even at one point on his back playing the violin, right up until the end. He had twice as much energy as many musicians I've seen half his age, and even when he had his back to the audience, while sawing away on his violin, he was still captivating to watch.
Sometimes it's tough for an instrumental band live. Without vocals, it can be difficult to connect with the crowd and draw people in; I've certainly seen it happen. But both bands this night -- especially Dirty Three -- had more than enough going on that demanded your attention. And you will be hard pressed to find another frontman more manic, yet thrilling to watch, than Warren Ellis.
I have little doubt that this is going to go down as one of the best, and my favourite, shows of the year.