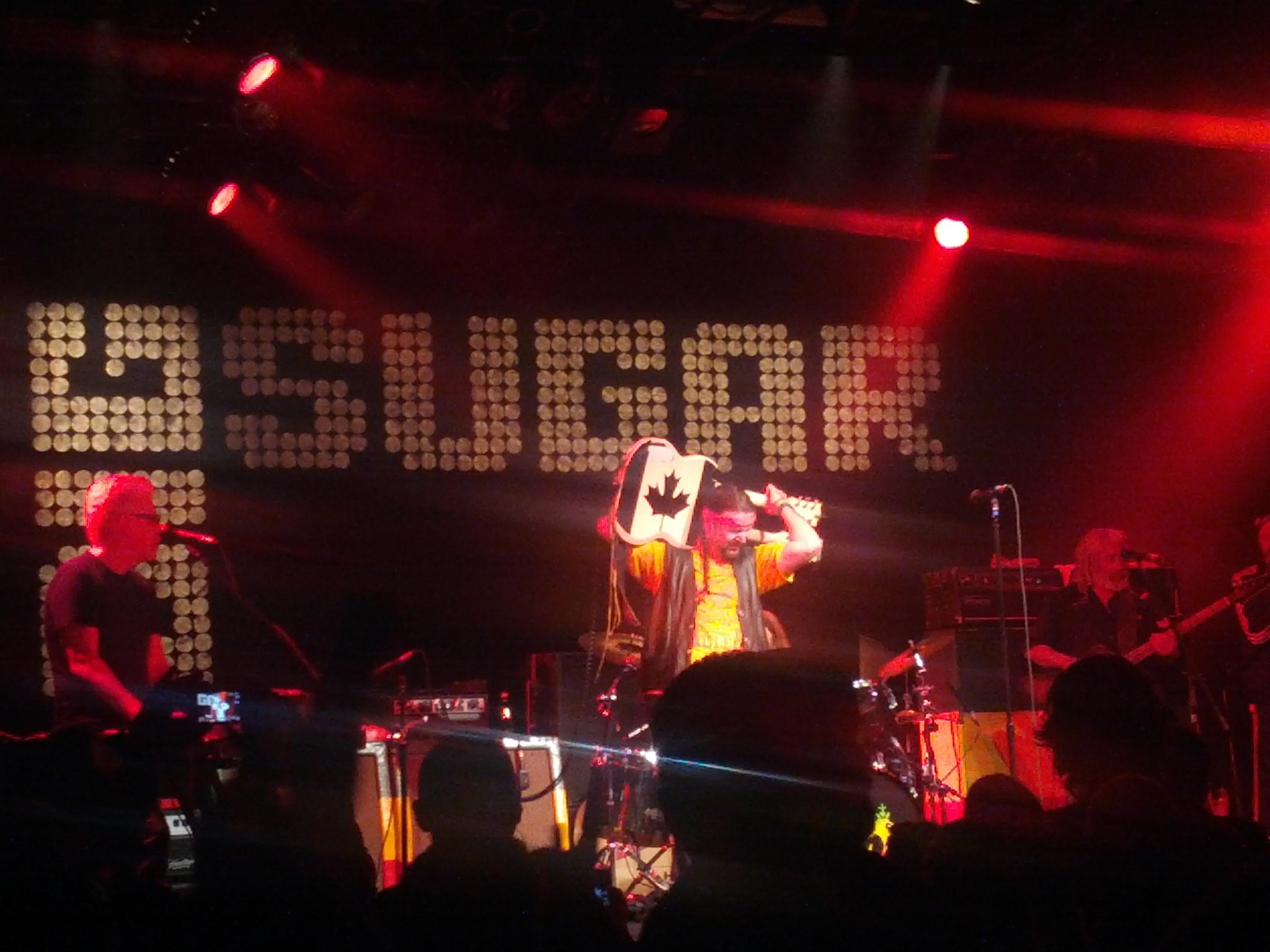 It was almost exactly a year ago that Big Sugar made their return to Vancouver, to kick off their "Big & Wide" tour with Wide Mouth Mason
for an incredible show
. Now both bands descend upon the Commodore Ballroom once again, for a pair of shows as Big Sugar heads out on tour while Mason caps theirs off. And opening the night was WMM's tourmates, Ontario's The Balconies, who I've been meaning to see for a while.
I got to the Commodore a shade late (of course, the one time I'm late is the one time the show on time), but only missed the first couple songs from
The Balconies
. The rock & roll three-piece -- comprised of siblings Jacquie and Stephen Neville on guitar and bass, respectively, and Liam Jaeger on drums -- were on right at 8, which is usually when doors open, but by the end of the set their gritty pop-rock sound and Jacquie's strong voice had drawn in a nice sized crowd.
They played a really tight set, all three members helping out on vocals, and some looping tricks, with a great energy. Especially from Jacquie, who had the presence and aura of a rock star, hardly standing still for a moment, dancing and swirling her hair while rocking out with an obvious passion.
The only downside was the mix seemed a little off, with Jacquie's voice being a little buried, but despite that it was still a good set, and I will definitely catch them again next time they come through town.
Next up was
Wide Mouth Mason
, with Shaun Verreault on guitar, drummer Safwan Javed and Gordie Johnson, pulling double duty for the night, on bass. They kicked off with the rocking and catchy "More Of It" from their most recent album, 2011's
No Bad Days
, and went into a collection of a few new songs and a good chunk of fondly remembered hits, like "Smile" and "This Mourning". Though the set was a majority of older songs, a lot of them had fresh touches, like a verse of "Who's There?" in the middle of "Why" and some of ZZ Top's "Just Got Paid" in "My Old Self". There were also solos thrown in, or just jamming; a few times it looked like Shaun and Gordie were improvising off each other on the spot.
Midway through the set Shaun also invited up someone he introduced as one of his favourite singers, Colleen Rennison of
No Sinner
for "Waterfall", her powerful voice blending excellently with Verreault's, and they ended with a tease of "Rained Out Parade" segueing into "Midnight Rain", a lot of the crowd joining in on the chorus.
Through the years, I've probably seen Wide Mouth Mason over a dozen times, and I never tire of watching them live. All three are superb musicians, who put on with an incredibly tight, and Shaun Verreault is one of the most incredible guitarists to watch.
And finally, it was time for
Big Sugar
to hit the stage, with a band larger than the two opening acts combined. The six members joining Gordie Johnson included original members Mr. Chill and Garry Lowe, new members Friendlyness and Stephane Beaudin, Wide Mouth's Safwan (also pulling double duty that night) on percussion and Reggae legend
Willi Williams
. They kicked it off in high gear, starting the blues rocking set with "Digging A Hole" and one of my favourite songs, the incendiary "Dear Mr. Fantasy".
The nearly two-hour set consisted of songs old and new, from their most recent, a cover of Al Tuck's "Eliminate Ya!" to "If I Had My Way" from 96's
Hemi-Vision
, and everything in between. The band, especially Johnson, had a fantastic energy, and the night was filled with showcases of just how incredible musicians they are; there was lots of jamming and extended versions of songs, some with reggae interludes with Williams or Friendlyness coming to the front of the stage.
They capped off the set with a few more older hits; "Turn The Lights On" had a switcheroo midway through the song as Gordie jumped on the drums and bass player Gary Lowe took front and centre on guitar. Shaun Verreault and Jacquie Neville also made their way on stage to help out with backup vocals for "All Hell For A Basement", staying for the rest of the set. And even from across the room, the look of pure joy and enthusiasm on Jacquie's face for joining them on stage was apparent.
They ended the main set with the raucous and explosive "The Scene", that transformed into an instrumental "Oh Canada", the crowd patriotically chanting along and Gordie proudly displaying the flag painted on the back of his guitar (as he played behind his head).
Of course, they were back out for an encore with just a couple more, including the title track to their comeback album
Revolutions Per Minute
and ended with a breathtaking performance of "Wild Ox Moan", Johnson giving it an almost gospel feel, accompanied only by the reverb of his own voice. It was an unbelievable performance to cap off a great night of music.